Acquisitie en de kunst van het luisteren
"Ik leg prima contacten en heb goede gesprekken,
maar die leiden zo weinig tot zaken …!?"
Een herkenbare quote voor de meeste advocaten en notarissen.
Hun inzet en acties voor betere profilering zijn goed en frequent, maar het levert nog geen werk of omzet op. Ze slagen er niet in om de de drempel naar acquisitie over te stappen.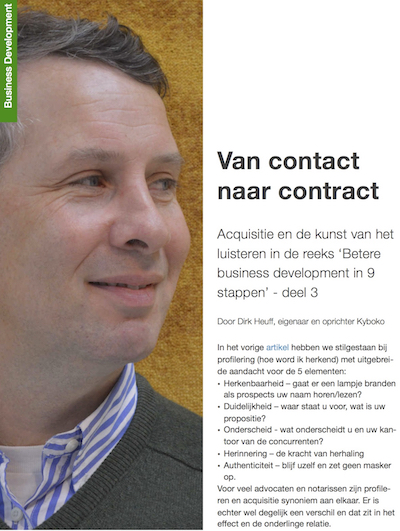 Het 3e artikel voor Legal Business World en daarmee deze blog reiken een werkwijze aan die daarvoor een oplossing biedt: acquisitie en de kunst van het luisteren. Het geeft handreikingen voor het proces van acquisitie en hoe dat efficiënt te implementeren
Hier de link naar het online artikel. En naar een makkelijk printbare PDF-versie.
Hulp nodig om uw acquisitie te verbeteren en beter voor u te laten werken?
Check onze workshops en trainingen en aarzel niet te bellen of mailen voor een gratis (maar niet vrijblijvend) gesprek.